About Us
Ashirvadam is a non-profit charitable organization Trust (NGO) established in 2012. Though at its nascent stage, Ashirvadam aims to take firm steps to help provide assistance where needed most, through funds or services. Ashok Soota, the Executive Chairman and Founder of The Happiest Minds and Davis Karedan are the trustees and visionaries of Ashirvadam.
Mission
Ashirvadam's mission is to provide employment skills and opportunities leading to a better quality of life for the underprivileged and to ensure environmental restoration through wildlife protection, forest preservation and other stewardship projects. With a vision to alter the social typography of our nation, Ashirvadam believes in lending its support through funding or otherwise to any worthy cause/project that creates an impact and takes us a step closer to our vision.
We Pledge / Our Objective
Ashirvadam provides assistance or undertakes various projects that are related to these trifocal issues of children education, poverty and environment. Listed below are few of the project types:
a) To undertake or provide assistance to projects for protection and preservation of the environment which include forest conservation, tree plantation, waste disposal and recycling of renewable sources of energy. Our endeavour is to educate the public at large about matters that benefit the environment.  
b) To embark on projects pertaining to the deprived section in urban and rural areas comprising of issues like sanitation, family planning, medical relief, vocational training for women and children among others.  
c) To assist in projects that concentrate on mid-day meal schemes for children, school uniform, provision of scholarship, health camps, renovation of school buildings, old age homes, hospitals and other such activities.  
d) To foster scholarships for those who showcase excellence in the field of sports and education.
Our Team of Social Workers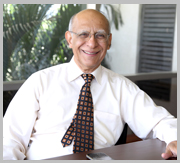 Ashok Soota: Founder Trustee
Mr. Soota is the Executive Chairman and founder of Happiest Minds Technologies established in 2010. Ashok's previous stints include as the Executive Chairman of Mindtree, President and Chairman of Wipro IT Business, President of Confederation of Indian Industries and Manufacturers Association for Information Technology. He has been a part of the advisory board of World Intellectual Property Organization, Geneva and International Enterprise, Singapore. He has been serving IIM Kozhikode as a member of the Board of Governors.
Ashok is the founder trustee of Ashirvadam. He has also been the chief sponsor of Samarthan Trust, a Bangalore NGO that provides shelter and education to girl children.  Continuously contributing to society by providing basic primary education aids, building an enduring environment and improving the lives of differently able people, Ashok is determined to make a difference.
---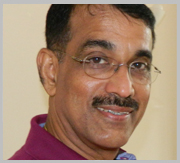 Davis Karedan: Managing Trustee
Mr. Karedan is an agriculturist, a businessman and a social worker. He was the proprietor of Pace Services, MD of Threadkraft and KleenSafe. An environmentalist and agriculturalist that he is, is reflected in his farm near Bannerghatta. However, what Davis utmost enjoys is serving the society. He has been associated with organizations like Anugraha Sadan, a home for mentally challenged destitute children in Chalakudy (Kerela), Samarthan Trust for the disabled and Baale Mane, a shelter for girls from deprived groundings. You can reach Davis for any social service related activities or issues at daviskaredan@ashirvadam.com
---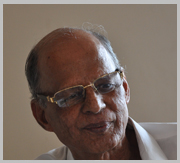 G.K.Pathik: CEO
Mr. Pathik is an industrialist with over 22 years of experience in Material Production and Management. He has been associated as General Manager - Projects with Sri Sri Ravi Shankar Trust. It is more than 12 years; Pathik has been actively involved in social service, charity and several NGO activities. He is the Chief Coordinator of the Integrated Slum Development Project, Bangalore; a project initiated by Youth Leadership Training Program (YLTP) that works to the improvement of education standards and quality of life of the underprivileged. It is under Mr. Pathik's guidance that the project has taken off to an advanced level with 30 government slum schools providing free education to about 7000 children. He has also started 10 vocational training centres and has founded Self Help Groups for women.
---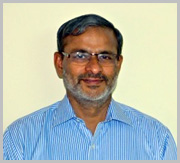 S.R.Gopalan: Advisor
Mr. Gopalan is the founder of two consulting firms - Dawn Consulting (www.dawnconsulting.com) and Bizworth India Private Limited (www.bizworth.net). He serves on the boards of several private companies, including Happiest Minds Technologies, Hycom Engineering and a social enterprise - Next Wealth Entrepreneurs. Prior to commencing his practice, Gopalan had a successful corporate career with Union Carbide and Wipro. Mr. Gopalan takes keen interest in the outdoors and environment with particular interest in forests and wildlife. He is a member of nature and conservation oriented organizations, some of whom he has assisted with, in raising funds. He has attended a naturalist training program. His other interests include marathon running, cycling and photography
---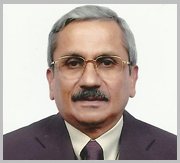 P.V.Menon: Trust Secretary
Mr. Menon is a Chartered Accountant with 36 years of proficient experience in his field. He is the Founder and Chairman of P V Menon and Associates, a CA firm in Bangalore. He is an expert consultant and advisor in setting up and maintaining business of small and medium enterprises. He has been associated with various charitable trusts and associations as a Financial Advisor and Auditor. On the professional front, Mr. Menon is serving on the Board of Directors in some companies. While on the social front, he has been associated with charitable organizations and trusts doing his social bit.